Demonstration of a gas pump in the 1940s at the fuel supply station of Sattar Khan in Tehran
Tuesday, September 1, 2020

A sample of a gasoline pump, belonging to the 1940s, made in Birmingham, England, has been exposed to the public at the fuel supply station in the Sattar Khan area of ​​Tehran.
According to the Petromyosium information base, "Dadrahim Baluch Zehi" is one of those people interested in industrial heritage who is an example of a British gasoline pump from Saravan city in Sistan and Baluchestan province.
(Avery Hardel) belonging to the 40s (20 solar) has been transferred to the fuel supply station in Sattarkhan area of ​​Tehran to be exposed to the eyes of fans.

He says: "In 1993, I bought the Saravan gas station with a gas pump, and after 4 to 5 years, I developed the station, but I did not like this gas pump and kept it. I started working in the station industry with this "It was a gas pump, and I did not allow it to be damaged over the years because I was interested in it."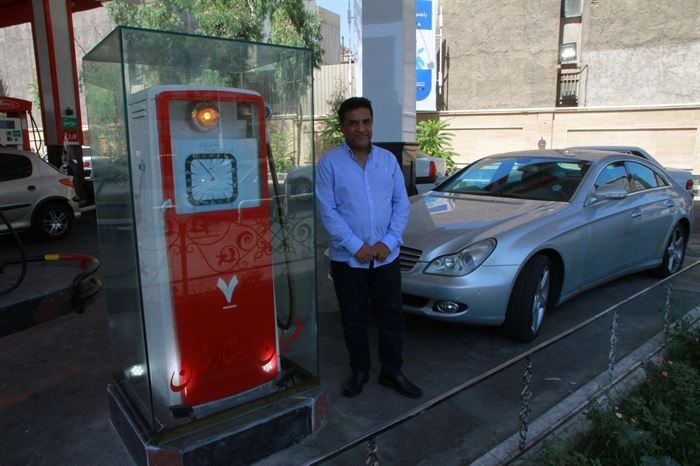 "Dadrahim Baluch Zehi" next to an old gas pump


He continues: In Saravan, which is a small city, in the same old gas station, a thousand liters of gasoline were sold daily because the capacity of cars in my city was low and no more gasoline or diesel was sold.
According to "Baluch Zehi", Saravan station is the first fuel supply station in this city, where it has started its activity since 1342. In this station, at first, various fuels such as kerosene and engine oil were sold in small and medium Aleppo, and in 1986, when this station became a single-purpose sales station, daily sales increased to 500 liters of gasoline per day.
He, who currently has a fuel supply station in Tehran, Bandar Abbas and Sari, says: I moved to Tehran in 2000 and bought the fuel supply station of Sattar Khan Tehran in 1397, but I never closed the Saravan station and that station is still is active .
At present, this gasoline pump is located inside a glass chamber outside the fuel supply station of Sattarkhan Tehran, which has been very welcomed by passers-by and visitors to this station. They take a souvenir photo with this gasoline pump. Especially at night, when the glass chamber of this gas pump is lit, people are more interested in taking pictures of themselves.
According to "Baluch Zehi", due to the people's welcome for this old gasoline pump, in the near future, the number of these old pumps in this station will be increased and will be exposed to the eyes of the interested people.

It should be noted that this gas pump is one of the second and third generation of gas pumps in the world, which is made by the company (Avery Hardel) in the United Kingdom. The company started producing gas stations in Birmingham, England in 1900 and initially produced hand pumps without metering system. This model was produced with a rectangular cube body and a hand display from the 1940s onwards. This gasoline pump was used in the whole of Iran in the 1920s, and at the same time with the increase of fuel consumption in the country, these pumps were removed from the fuel supply system and more modern pumps were put in service.